Starting with all of the bold entries on my list of fiction from the year, I tried to write up a list of my top ten favorite books from the year, and I had the hardest time! I got my list down to fourteen, but I couldn't not mention any of these, so you get my top ten favorite new-to-me reads, one honorable mention, and three favorite re-reads.
Top ten favorite new books:
It's interesting to me that most of these books – eight out of ten – are children's or YA fiction, but I suppose it's not too surprising, because I read a lot of books in these genres this year. I've mentioned before how all the complex reading and thinking that grad school requires makes me want lighter fare at home. I've also been noticing that I judge children's/YA fiction differently. To merit a bold entry on my list, children's or YA books have to delight me. An adult novel has to capture me, a different prospect altogether.
In order of my reading them, because putting them in order of affection seems entirely impossible:
Rose Under Fire by Elizabeth Wein -

This companion novel to

Code Name Verity (one of my top ten last year) was just as difficult to put down and just as heart-wrenching. Also a Holocaust story, this one follows an American pilot in a concentration camp. As I wrote in my review, i

t's a shocking book, but it's not intended as a shocking expose of the terrible conditions in a concentration camp (even though yes, this book was well-researched, and all these details were true - that's perhaps the most horrifying thought). Instead, the novel is about relationships and hope and story-telling.
Magyk by Angie Sage - A wonderful, witty, unbelievably funny Harry Potter alternative full of delightful allusions. I wrote a glowing review here. I just wish the sequels had been as memorable - there are seven in total, but with a gap of several months between reading the second and attempting the third, I couldn't remember a thing about book 2 and had to give up, hopefully to read the entire series as a set someday.
Finn Family Moomintroll by Tove Jansson - I instantly fell in love with the Moomins, which I've described to many a bemused friend as sort of Scandanavian Winnie the Pooh. There's so much whimsy in this book, combined with an unusual affirmation of introversion and the occasional need to be alone. This was the only book I reread within the same year, and after doing so, I promptly bought the entire rest of the series and am savoring them slowly.
South Riding by Winifred Holtby - This book is unlike any other on this favorites list. It's not full of whimsy or magic, but is a close, detailed look at the means and impact of local government in rural England. A huge cast of characters means that readers are able to experience the needs and dreams of a wide range of people, spanning class and gender.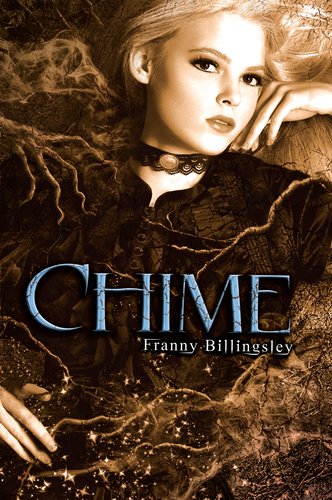 Chime by Franny Billingsley - Starting with The Folk Keeper, I've devoured every one of Franny Billingsley's YA novels this year.
She has become one of my favorite authors and I've recommended her books countless times. Beautifully poetic language means that you must never read anything of hers too fast, and
she writes utterly unique novels that include enough folkloric aspects to feel both familiar and fresh. With its unreliable narrator and protagonist who struggles to find herself despite a long history of abuse,
Chime
was my favorite, but
The Folk Keeper
and
Well Wished
were lovely too.
Eon by Alison Goodman - I discovered this rather unexpectedly, snagging an e-book copy from the public library in London simply based on its interesting cover (not my usual MO!) A fabulously feminist book, one that deals with gender roles, disability, and non-Western culture in a completely mesmerizing and believable way. I only wish the sequel, Eona, had been less disappointing (though a lot of people loved it, so it may simply be a matter of taste).
A Monster Calls by Patrick Ness - Books don't often make me cry. This one did. Three times. It's an "issues" book - dealing with cancer and the death of a parent - told with sensitivity and grace, accompanied by haunting illustrations, and focusing on the power of stories and self-narratives in the healing process.
Harvest by Jim Crace - This is the other adult book on my favorites list, and it too deals with rural community (absolutely one of my aesthetic preferences). Harvest is the account of a tragedy that unfolds for a very small English(?) village when their way of life is threatened from without and within. It's also a slow-moving character study with a really intriguing narrator who was himself once a stranger to this society and remains an outsider. The land itself and its seasons are central figures in the narrative.
The Brides of Rollrock Island by Margo Lanagan - In my review, I wrote that m
y thoughts on this book are one enormous ball of wonder and awe. Like Franny Billingsley's
The Folk Keeper
and
Chime
, Lanagan uses unbelievably beautiful, poetic prose in service of a story based on folklore. This book uses the selkie myth (seals turned into women, forced to marry the man who steals her coat, and who will forsake her husband and children to return to the sea should she ever find that coat) to grapple with questions of sexuality and desire, shame, power dynamics within relationships and within communities, differing responses to the oppression born of systemic patriarchy, agency, and tradition. And happily, as a folkloric retelling, it has enough of a story to keep it from being just an "issues" book.
The Girl Who Circumnavigated Fairyland in a Ship of Her Own Making by Catherynne M. Valente - It's like a modernist Alice in Wonderland, but it's also completely Catherynne Valente's own, absurd and fanciful with absolutely gorgeous, poetic writing (it's been quite a year for that, I'm noticing as I write this post). And it's surprisingly dark, violent, and bloody. I loved every minute of it and have the sequels in my library queue.

Honorable mention goes to:
The Weird Sisters by Eleanor Brown -
This tale of three sisters, their troubles and their reconciliation, is basically
The Sisterhood of the Traveling Pants
for grown-ups, plus a pleasing dash of academic culture and Shakespeare thrown in. It had problems – stilted dialogue, a predictable plot, a bit too much philosophizing – but was great fun nonetheless. I read most of this laying outside next to a pool in California during Holy Week.
Favorite re-reads:
The Lord of the Rings by J.R.R Tolkien - I've been a LOTR fan since junior high, aided by the movies of course, but I always made sure to read the books before seeing the films. (I confess I had the biggest crush on Elijah Wood as Frodo...) This summer, I re-read the entire saga (including the appendices!) while in England (and mostly on the London Tube), and this setting really drove home the utter Englishness of its ideas and descriptions, in contrast to the vaster and more sweeping New Zealand version of Middle Earth presented in the movies. It's an inconsistent novel, but it had some absolutely gorgeous moments, and I'm still thinking about Gimli's description of the caves to Legolas and the relationship between Frodo and Sam in Two Towers.
Harry Potter and the Goblet of Fire by J.K. Rowling - Husband and I, both huge fans of Harry Potter, agree that this is the best of the books. Bigger and richer than any of the previous books, GoF is the one in which we first gain a real glimpse of the wizarding world and its problems and systematic oppressions.
The Snow Child by Eowyn Ivey - Because this is such a recent book, and because I make a point of only buying my fiction secondhand, I didn't think I'd get to own this for years...but I found a copy in a London bookshop, and came home not only with the book but this gorgeous UK cover. I decided to re-read it with the first snowfall of the year (which rather delightfully came on the morning of my Christmas tea party), and I loved it just as much as last year, when I wrote on my top ten list that it's the perfect winter novel.